How to Quickly Identify Phishing and Malware Email
Malware and phishing attempts are more prevalent than ever.  Learn how to identify them quickly every time.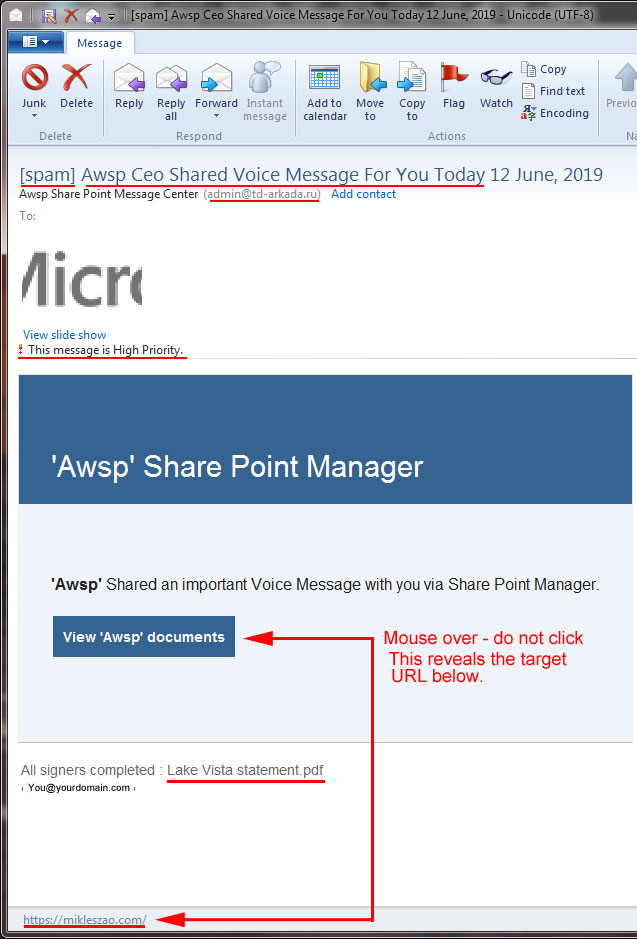 2
Does the subject make sense?
5
Mouse over "view" to reveal destination URL
What's wrong with this email?
The key to identifying phishing, malware and scams is to simply use the power of observation.  Here, I'll show you some examples of what to look for.
These phishing emails typically personalize the message and to try and convey trust by using your name, email address, business domain name and even company names and logos that you have done business with.  They also try to impart a sense of urgency to act on your part.  These tactics are all red flags.
First and foremost,  what is the general look and feel of the email?  Does it look professional or thrown together?  Red flags can include a poorly designed email with spelling and grammatical errors.
In this example, scammers are trying to disguise this email as an inner office email sent from share point.  Let's break it down.
#1)  This is a poorly designed email AND It's marked as SPAM.  This is obvious but it is the first red flag.  However, many phishing/scam emails you'll receive won't be marked as spam and can look fairly slick.
#2) Does the subject make sense?  Are you expecting an email from this organization or person? Do you commonly receive voice messages from Share Point?   Probably not.  Let's investigate further.
#3) Senders email address.  Do you recognize the domain?  Look at the extension, .ru is Russian.  Shouldn't have to go any further but just in case, read on.
#4) Why would this be marked high priority?  What evidence do we have so far?  A poorly constructed email marked "SPAM" from someone or organization you don't know, from a Russian email address. Hmmm.  Not looking good.
#5) Mouse over the "View Document" or the "Take this Action" button but do not click it.  The destination URL will be revealed in the lower left corner of your mail client.  Do you recognize this URL/Domain?  No?
#6) Does the subject of this fake PDF make any sense to you?  No?  Add all of this up and the email is a phishing or malware attempt.
It is safe to delete.
How long does this process take? Once you know what to look for, only a few seconds from review to delete.
Keith Hickman, Director of Marketing and technology, has been working in the field of Web design and search marketing since 1995 when he was active in the online game development community.
In 1997 Keith founded Advanced Web Site Publishing, which is a full-service Web Design and search engine optimization/marketing company. In 2004, Keith brought Houston's Host under the AWSP umbrella featuring hosting and additional web services.
In 1999 Keith earned his MCP and MSCE network engineering credentials to further understand networking and server-side management and development.
Keith is now at the forefront of the search engine optimization industry and is highly effective at SEO marketing techniques. He also consults with customers concerning Online marketing and SEO.
Houston's Host is celebrating its 19th year as part of the AWSP family in 2021.